Application:
Pipe conveyor material has the advantages of no leakage, no pollution to the environment, saving land and capital construction cost.Suitable for steel mills, mining, coal mining, open-pit mining, building materials, saltworks, cement plants, chemical plants, coal-fired power plants, ceramics factory, paper factory, sugar refinery, chemical fertilizer plant, farm, dam construction site, construction site, highway, railway construction, airport construction and so on all walks of life.
Characteristics of the conveyor:
A Pipe belt conveyor can be closed conveying. Not flying, not falling, not leak. Because of the return branch conveyor belt into tubes, so don't worry diffused adhesion on the conveyor belt material.At the same time to prevent the pipe material with outside, will be delivery, purifying the environment.
B Pipe belt conveyor can be curved conveying in three dimensional space. To bypass the obstacles and facilities without the need for more reproduced.Simple design, convenient layout,can design a very economic general arrangement plan, with smaller radius of curvature of the realization space curved lines.
C Pipe belt conveyor doesn't have phenomenon of running deviation. From the structure principle,it won't produce running deviation, thus reducing the maintenance cost.
Figure 1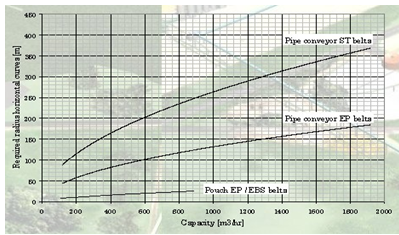 Figure 2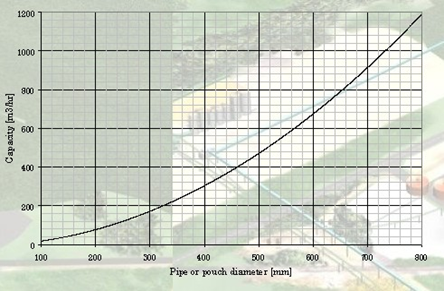 Product specification
| | | | | |
| --- | --- | --- | --- | --- |
| Model specification | Pipe diameter mm | Volume transport 1v/m3·h-1 | The Max. size of material amax/mm | Conveyor belt width corresponding B/mm |
| XGYGD01 | 100 | 21.2 | 20~30 | 430(400) |
| XGYGD02 | 150 | 47.5 | 30~50 | 600 |
| XGYGD03 | 200 | 83.1 | 50~70 | 800(780) |
| XGYGD04 | 250 | 147.4 | 70~90 | 1000 |
| XGYGD05 | 300 | 176.4 | 90~100 | 1100(1200) |
| XGYGD06 | 350 | 237.6 | 100~120 | 1300(1400) |
| XGYGD07 | 400 | 388.8 | 120~150 | 1530(1600) |
| XGYGD08 | 500 | 558.1 | 150~200 | 1900(2000) |
| XGYGD09 | 600 | 777.6 | 200~250 | 2200(2250) |
| XGYGD10 | 700 | 1008.0 | 250~300 | 2550(2600) |
| XGYGD11 | 850 | 1454.4 | 300~400 | 3100(3200) |
(Levels of transport、Material filling coefficient=0.75,tape speed=V=1m/s)